The 2021 Subaru Love Promise Community Commitment Award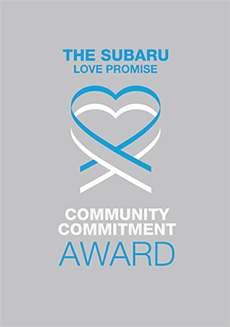 We've been nationally recognized for our dedication to our community and the Subaru Love Promise.
We're honored to receive the 2021 Subaru Love Promise Community Commitment Award. This award nationally recognizes Subaru retailers who are making the world a better place while demonstrating an outstanding commitment to supporting passions and causes in local communities. These efforts are focused in important areas such as the environment, community, health, education, and pets.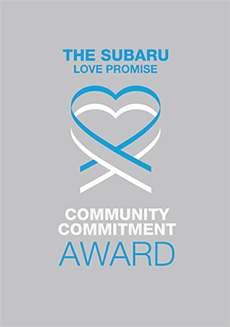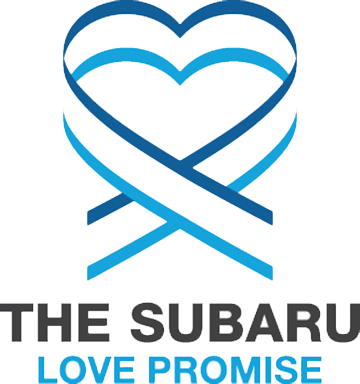 What is the Subaru Love Promise?
Subaru and our retailers believe in making the world a better place and the Subaru Love Promise is our vision of respecting all people. This is our commitment to show love and respect to our customers and to work to make a positive impact in the world.
How is Glanzmann Subaru dedicated locally to the Love Promise?
Our Love Promise can be seen in various partnerships with local charities and non-profits. We're grateful for the opportunity, not only to be a part of our community, but to serve it as well.
Temple University l St. Joseph's University l Lasalle University l Chestnut Hill College l St. Joseph's Preparatory l Lasalle High School l Mount St. Joseph's Academy
Philabundance l Chestnut Hill Festival l St. Philip Neri School l Ambler Main Street l Abington Ghosts l Jenkintown Drakes l Keystone Rally Association l Temple Beth-Am l Broadway Sings l Jenkintown Borough
For Pete's Sake Cancer Respite Foundation l Susan G. Komen for the Cure l Linda Creed Breast Cancer Foundation
Love Promise Stories from Glanzmann Subaru
Subaru and Glanzmann Subaru believe in making a positive impact on the communities in which we live and work. We uphold that belief through our Love Promise Community Commitment. Every month, we select inspiring stories from customers and partners from around our area who strive to support our collective commitment and feature them here
Glanzmann Supports Wissahickon High School Sports - Mark M
The Glanzmann Subaru Family (and yes i call them a family) has been great about support local sports at Wissahickon High School. They provided a full page add for our football program this year and have helped support our lacrosse golf fundraiser as well. Wissahickon has an economically diverse population so we have a number of people that we use this money raised to buy proper raining equipment and trainers to teach them the proper way to prepare themselves for the season, we buy upgraded equipment for the players to help ensure they have safer helmets and pads, and we help provide meals for some prior to games to work with them on proper nutrition., and for those that need it, we use this money to provide tutors for the young adults. Wissahickon football and lacrosse is funded by donations and community support. Without the help of community partners like the Glanzmann Subaru company, we would not be able to provide the our young athletes all they need to be safe and enjoy their high school experience Thanks Jeff and Team! .
---
Springfield Little League & Glanzmann Subaru - Kevin C
Springfield Little League is a 100% volunteer, self-supported organization, providing children of the Oreland, Wyndmoor, Flourtown and Erdenheim communities the opportunity to play the great sport of baseball. Nearly all the funding needed for uniforms, field maintenance, equipment and utilities comes solely from registration fees and sponsorships. We are proud to have Glanzmann Subaru as one of our prime sponsors. Year in and year out, Glanzmann Subaru is willing and happy to lend a hand. The league literally would not exist without the generosity of sponsors such as Glanzmann Subaru. Thank you Glanzmann Subaru for continuing to put smiles of the faces of countless little leaguers and families!
---
Loving the Earth at Glanzmann - Karyn L
I felt compelled to write you and submit this story after seeing the many videos you posted on social media throughout the month of April. I learned all about your Subaru Loves the Earth month and was impressed by all of the creative ways in which you and your employees work to preserve our environment. It really shows that your company's care extends far beyond making money and that you are a true community and people driven business. I was particularly impressed with your reuse of oil to heat your building and how you turn snack wrappers into park benches. This is very creative and inspiring to try and do more in my everyday conservation efforts. I also thought the tire recycling was pretty cool too! While watching all of your videos, it shined a light back on the people part of business, and if more businesses are led by caring individuals like yourself, our future will be bright! Thank you and your entire organization for being a business that truly cares... not just in words, but in your everyday actions. And your actions truly show you "love the earth"
---
"Fill the Forester" Food Drive - Katie L
Inspired by Subaru and their partnership with Feeding America and donation of more than 150 million meals, the team members at Glanzmann Subaru wanted to do something themselves to further the cause and support a local food bank. Several employees got together and came up with the idea of a "Fill the Forester" food drive. Employees and customers were invited to drop off shelf stable food to the showroom or service drive, with all proper safety precautions, in order to "Fill the Forester." The contents would then be delivered to a local food bank, Philabundance. Team members and customers were generous, but what really surprised the team at Glanzmann was the amount of "off the street" donations received from the general public who had simply seen facebook videos posted about the food drive. By March 1st, the team at Glanzmann had accomplished their goal of the filling the Forester, which generated 547 pounds of food. This is going to help feed a lot of people during a time when the need is so great. Excellent work by the team members at Glanzmann. This truly is a testament to the good that small acts of kindness can do to help better our community.
---
Glanzmann steps-up for Prevention Point - Prevention P
Earlier this month, Glanzmann Subaru donated blankets to Covenant House through Subaru's Love to Help campaign. Weeks after Glanzmann Subaru partnered with Covenant House, the blanket donation was learned about through connections that exist between Covenant House and Prevention Point, both organizations work closely together and are committed to helping the homeless in Philadelphia. Although Glanzmann Subaru already donated their blankets to Covenant House, Prevention Point representatives contacted Jeff Glanzmann and asked if he had any leftover blankets to donate, or if Subaru had any leftovers. Shortly after the Prevention Point request was made, Jeff Glanzmann responded that there were no leftover blankets, but that Glanzmann Subaru would be purchasing an additional 100 blankets to donate specifically to Prevention Point. A few days later Prevention Point was notified that the blankets arrived, which was just in-time for a Philadelphia CODE BLUE alert where temperatures dropped to critical levels. Thank you Glanzmann Subaru for stepping up to help. The blankets really made a difference and it is great to see this generosity from a local business. Thank you for caring about the community!
---
Holiday Happiness - Sergio S
Restaurants have been hit really hard this year due to COVID-19, and Pasta Fazool in Hatboro, PA is no exception. The restaurant, a small quaint Italian style eatery with no more than 10 or so tables, has been struggling to overcome the COVID hardships. The staff in the restaurant have remained positive and optimistic that they will get through it together, but in the owner's words, "it has been really tough for us and our families and every day is a struggle." That struggle was eased this month when Jeff Glanzmann, unaware of how much this little neighborhood staple was struggling, walked in one day and ordered 90 gift certificates to give to all of his employees at Glanzmann Subaru. Since Glanzmann Subaru could not have its annual holiday party due to COVID, he wanted to still provide his employees and their families with a celebratory holiday meal. He chose Pasta Fazool because it was across the street from the dealership's new future location and wanted to support another local business. Sergio, the owner, was brought to tears upon hearing the request, and later said... "Glanzmann Subaru came at the best time because right now it is the worst time. We really need the support and this changes everything for us." It is great to see the positive impact in our community that all 90 employees at Glanzmann Subaru are making happen. In particular, the good they are doing for this little Italian restaurant that remains a neighborhood staple thanks, in part, to everyone at Glanzmann Subaru.
---
Coats for Kids - Megan T
Glanzmann Subaru put some smiles on a lot of kids faces this year by donating more than 300 coats to kids in need of a warm coat for the winter. Believe it or not, every child is not fortunate enough to have the basics that many of us take for granted, so providing even the smallest essentials can help improve a child's wellbeing. The coats that Glanzmann Subaru donated will not just provide warmth, but they will also help bolster each child's self-esteem. Owning a brand new winter coat can be such a joy to a child and we cannot thank everyone at Glanzmann Subaru enough for all the great work they do to better our community. Great job Glanzmann Subaru!
---
Glanzmann Subaru Loves to Help! - Maria O
Glanzmann Subaru delivered blankets to Covenant House PA to help the homeless youth sleep warmer this winter season. Subaru Loves to Help. This November, in recognition of National Homeless Youth Awareness Month, Subaru and their retailers are donating 50,000 blankets to nearly 600 homeless shelters across the country. Glanzmann Subaru is proud to participate in this wonderful cause.
---
Glanzmann takes part in a Subaru Love Pets Event - Maria O
October is Subaru Loves Pets month! Glanzmann Subaru proudly supports the Bucks County SPCA. Buddy is a one-year-old shepherd mix who lost his home in September through no fault of his own. Unfortunately, his owner lost her job, and she was unable to continue providing for him. She tried re-homing Buddy with family members, but he was too active for them. She brought Buddy to the Bucks County SPCA for help finding a good home able to give him the care and attention he needs. At the shelter, the veterinarian examined Buddy and began a course of treatment for intestinal parasites. During the couple of weeks Buddy was receiving medical treatment, the staff and volunteers made sure he was active and emotionally engaged each day. To prepare Buddy for adoption, he was neutered, microchipped, and all necessary vaccinations were updated. Everyone at the shelter thoroughly enjoyed working with this smart young dog. They were eager to help him find a new family ready to continue his training and care. He found a family in only a few days! Thanks to the support of Glanzmann Subaru and the Bucks County SPCA, they help rescues and re-home thousands of pets like Buddy every year! !
---
Their kindness beamed through their masks - Nate W
My husband's cancer research lab at UPenn was closed because of the pandemic. Simultaneously, he was added to the physician's on-call list. The thought of him on the frontlines made me proud that he would be there for patients with coronavirus, but I worried about his safety. I knew I had to buy him a reliable car because he wouldn't be able to take the bus to and from the hospital like he usually does. Thankfully, we had the good fortune of being held in care by Dana, Jessica, and Jake at Glansmann Subaru. Within no time, Dana presented the perfect CrossTrek. Like a pro, he navigated the ambiguities of the state's temporary ban on licensing. He provided us with a new loaner car until the ban was lifted, helping meet our immediate needs. Dana personalized the entire online buying experience, including creating a custom video for us. After the ban lifted a month later, I returned the loaner to find our dream car with custom accessories. I was impressed by their expertise about the entire car-buying process, including Jake's skillful orientation to the CrossTrek. Together with Dana and Jessica, it was clear that the team had a comprehensive plan for practicing social distancing during the contracting process. Their kindness and warmth beamed through their masks. I was moved by their ability to maintain the highest forms of professionalism amid considerable uncertainty. I could tell their work was more than a job but a vocation. For instance, many of Glanzmann Subaru employees were temporarily furloughed during this crisis. Each employee made sacrifices to help the Philadelphia region flatten the curve. This was another powerful way of the Glanzmann team collectively showing tremendous courage to protect their neighbors, which in turn helped the hospitals not become overwhelmed. As a result, it's been six weeks now since my husband was added to the first-responder list, and he has not yet been called in. Whether that's soon, or when he eventually returns to conducting cancer research, he will be protected by our safe and reliable Chariot, the name of our new CrossTrek. Thank you, Dana, Jessica, and Jake for protecting our family and our region in these uncertain times. Thank you for treating us with care and dignity. We wish you and your loved ones abundant health and happiness. In gratitude, Nate
---