The 2021 Subaru Love Promise Community Commitment Award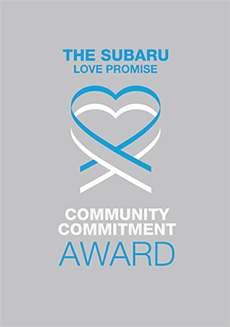 We've been nationally recognized for our dedication to our community and the Subaru Love Promise.
We're honored to receive the 2021 Subaru Love Promise Community Commitment Award. This award nationally recognizes Subaru retailers who are making the world a better place while demonstrating an outstanding commitment to supporting passions and causes in local communities. These efforts are focused in important areas such as the environment, community, health, education, and pets.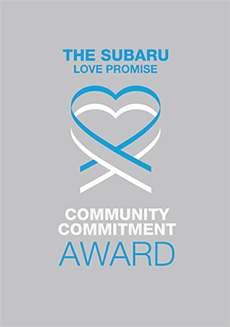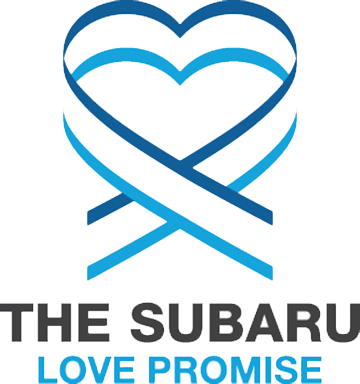 What is the Subaru Love Promise?
Subaru and our retailers believe in making the world a better place and the Subaru Love Promise is our vision of respecting all people. This is our commitment to show love and respect to our customers and to work to make a positive impact in the world.
How is Glanzmann Subaru dedicated locally to the Love Promise?
Our Love Promise can be seen in various partnerships with local charities and non-profits. We're grateful for the opportunity, not only to be a part of our community, but to serve it as well.
Temple University l St. Joseph's University l Lasalle University l Chestnut Hill College l St. Joseph's Preparatory l Lasalle High School l Mount St. Joseph's Academy
Philabundance l Chestnut Hill Festival l St. Philip Neri School l Ambler Main Street l Abington Ghosts l Jenkintown Drakes l Keystone Rally Association l Temple Beth-Am l Broadway Sings l Jenkintown Borough
For Pete's Sake Cancer Respite Foundation l Susan G. Komen for the Cure l Linda Creed Breast Cancer Foundation
Love Promise Stories from Glanzmann Subaru
Subaru and Glanzmann Subaru believe in making a positive impact on the communities in which we live and work. We uphold that belief through our Love Promise Community Commitment. Every month, we select inspiring stories from customers and partners from around our area who strive to support our collective commitment and feature them here
Lucy's New Chair - Katie L
The kindness and thoughtfulness demonstrated by Jeff Glanzmann and his team at Glanzmann Subaru will bring you to tears. The Glanzmann's met Lucy, a young girl with some physical challenges, a heart of gold, and a very lively spirit. Lucy loves the outdoors, especially the beach where she tries to spend as much time in the ocean as her mother will allow. As Lucy has grown, her physical challenges have become more severe, which has made it increasingly difficult for her to traverse uneven terrain. Not to mention, increasingly difficult on those who provide her aid. The Glanzmann's recognized this and, without being asked, just showed up on Lucy's doorstep with an all-terrain chair. This will change Lucy's life... and change her mother's. Thank you Glanzmann Subaru! A company that does good deeds like this is one to be modeled! You guys ROCK!
---
Chestnut Hill Business Assoc. Festival Sponsorship - Philip D
The Chestnut Hill Business Association is thankful for Glanzmann Subaru's steadfast and generous support of its annual festivals. For over 25 years, Chestnut Hill has hosted two of the region's most popular neighborhood street festivals--the Home & Garden Festival every May, and the Fall For The Arts Festival every September. We are privileged to count Glanzmann Subaru as our Presenting Sponsor for both of these events. Each festival has historically drawn about 15,000 people, with attractions that include guest vendors, outdoor dining, live music, artisan demonstrations, and a children's amusement zone--all made possible thanks to Glanzmann's leading sponsorship. Our organization developed a natural affinity to Subaru as our staff and merchants noticed that many of their customers favored the brand, and this led to Glanzmann having a strong presence in our special events. Subaru's extensive display at the festivals--which includes its annual vehicle lineup and customer engagement tents--has become a popular attraction due to its interactivity, allowing drivers to sit inside and explore Subarus while asking questions of representatives. It has also become popular among existing Subaru drivers, who use the event as a means of exploring newer offerings and reconnecting with the brand. We are pleased that this partnership has created an enduring link between Subaru and our local customer base. The Chestnut Hill Business Association is fortunate to have a number of corporate sponsor relationships, but none has the longevity and level of support that we've enjoyed with Glanzmann Subaru. These festivals are truly a win-win for Glanzmann Subaru, Chestnut Hill's business community, and our customers. Thank you!
---
Dot, Dash, and Determination - Megan Gallagher T
La Salle Academy, and every school, was forced to make several changes during the 2020 - 21 School year. LSA had to restrict visitors and volunteers which meant that our Academic Enrichment time changed. A lot of the additional work went to teachers ... and our La Salle Academy teachers used the time to add in STEM activities. With the help of Glanzmann Subaru, Jim Glanzmann and the AdoptAClassroom.org foundation, La Salle Academy enhanced our STEM Curriculum, added a new Robotics Club and is complementing writing and Language Arts with Science, Technology, Engineering and Math experiences. Our students LOVE the Dot & Dash robots! We are so grateful.
---
Warming Hearts with Warm Winter Coats - Katherine L
Glanzmann Subaru warmed my heart with a warm winter coat! Each year, the crew at Glanzmann Subaru gives away warm winter coats to kids in need. This year, students at Lasalle Academy in West Kensington were all smiles when they found out they were getting a free winter coat. Many of the students in this school do not even own a coat, let alone a brand new one for themselves. Why? The average family income for a family of four in this school is only $18,500, 100% of families qualify for a Free Lunch Program, and 34% of students are from Single-Parent homes... all contributing to the inability of these kids to receive all of the basic essential needs. The need is real here!! The Glanzmanns recognized this need and stepped up to ease the burden on the parents and kids in our community. Over 350 kids were given a brand new coat to call their own and keep them warm throughout the upcoming winter! Thank you for being a company that doesn't just say they care about the community, but actually shows it in your actions!
---
Glanzmann Subaru supports Parent Infant Center - Karen S
The Parent Infant Center in West Philadelphia is grateful to Glanzmann Subaru! For the past 5 years, Glanzmann Subaru has been a supporter our annual fall fundraiser, ArtStart. This year, we held ArtStart outside over 2 weeks and featured collaborative art sculptures on our playground. Our toddler, infant, and preK classrooms created mobiles, earth spirals, wind chimes and more. Proceeds from ArtStart are dedicated to PIC's tuition assistance program. Glanzmann Subaru supported tuition assistance for families with an ad in our program book. This year, more than ever, our tuition assistance program is needed to help families give all children a high quality early childhood education. Thank you Glanzmann Subaru!
---
Glanzmann Subaru Gives Back to Nature Education - Karen F
Glanzmann Subaru was a proud sponsor of the Friends of Briar Bush's Feather Our Nest Gala 2021, Moonlight at the Manor. This is our largest fundraising event of the year. Funds raised directly support our mission of providing nature education to everyone in our community. During the event, guests were able to participate in a variety of activities that showcase our programs. Glanzmann Subaru has been a consistent donor to our organization through the years. This type of dependable funding allows us to plan and evolve our programs to meet the needs of the community. Examples this past year are an after school program that provides screen-free afternoons for grade school children, homeschool programs, naturalist led guided walks for adults, and the development of our scholarship fund which provides financial assistance for individuals and families who seek valuable experiences in nature. Thank you, Glanzmann Subaru for helping us teach others to explore and protect nature! Your commitment is greatly appreciated!
---
Subaru Helps Save Shelter Pup - Morgan V
Thanks to our friends at Glanzmann Subaru, underdog Harley, got a second chance! Harley came to the Bucks County SPCA shelter with a skin condition that required daily medication. She was also extremely timid around new people and in strange environments. It took our staff a while to win her over and any potential adopters would need to be prepared to take their time with her as well as keep up with her medical needs. Harley was our first dog to promote #Subarulovespets and she was adopted just two days later! For every dog and cat adopted throughout the month of October; Subaru is donating $100 to the Bucks County SPCA up to $3,100. This money will help us provide animals in our community with shelter, food, medical care, and the path to a new home!
---
Glanzmann Supports Wissahickon High School Sports - Mark M
The Glanzmann Subaru Family (and yes i call them a family) has been great about support local sports at Wissahickon High School. They provided a full page add for our football program this year and have helped support our lacrosse golf fundraiser as well. Wissahickon has an economically diverse population so we have a number of people that we use this money raised to buy proper raining equipment and trainers to teach them the proper way to prepare themselves for the season, we buy upgraded equipment for the players to help ensure they have safer helmets and pads, and we help provide meals for some prior to games to work with them on proper nutrition., and for those that need it, we use this money to provide tutors for the young adults. Wissahickon football and lacrosse is funded by donations and community support. Without the help of community partners like the Glanzmann Subaru company, we would not be able to provide the our young athletes all they need to be safe and enjoy their high school experience Thanks Jeff and Team! .
---
Springfield Little League & Glanzmann Subaru - Kevin C
Springfield Little League is a 100% volunteer, self-supported organization, providing children of the Oreland, Wyndmoor, Flourtown and Erdenheim communities the opportunity to play the great sport of baseball. Nearly all the funding needed for uniforms, field maintenance, equipment and utilities comes solely from registration fees and sponsorships. We are proud to have Glanzmann Subaru as one of our prime sponsors. Year in and year out, Glanzmann Subaru is willing and happy to lend a hand. The league literally would not exist without the generosity of sponsors such as Glanzmann Subaru. Thank you Glanzmann Subaru for continuing to put smiles of the faces of countless little leaguers and families!
---
Loving the Earth at Glanzmann - Karyn L
I felt compelled to write you and submit this story after seeing the many videos you posted on social media throughout the month of April. I learned all about your Subaru Loves the Earth month and was impressed by all of the creative ways in which you and your employees work to preserve our environment. It really shows that your company's care extends far beyond making money and that you are a true community and people driven business. I was particularly impressed with your reuse of oil to heat your building and how you turn snack wrappers into park benches. This is very creative and inspiring to try and do more in my everyday conservation efforts. I also thought the tire recycling was pretty cool too! While watching all of your videos, it shined a light back on the people part of business, and if more businesses are led by caring individuals like yourself, our future will be bright! Thank you and your entire organization for being a business that truly cares... not just in words, but in your everyday actions. And your actions truly show you "love the earth"
---