The 2021 Subaru Love Promise Community Commitment Award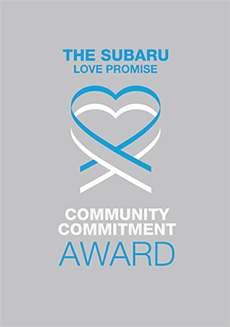 We've been nationally recognized for our dedication to our community and the Subaru Love Promise.
We're honored to receive the 2021 Subaru Love Promise Community Commitment Award. This award nationally recognizes Subaru retailers who are making the world a better place while demonstrating an outstanding commitment to supporting passions and causes in local communities. These efforts are focused in important areas such as the environment, community, health, education, and pets.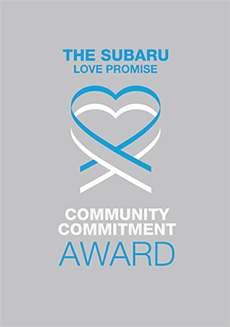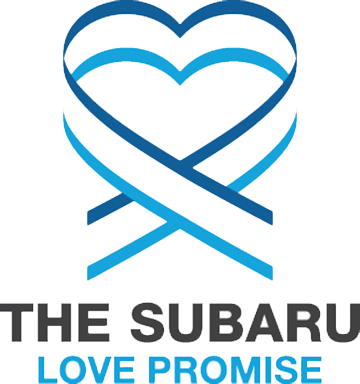 What is the Subaru Love Promise?
Subaru and our retailers believe in making the world a better place and the Subaru Love Promise is our vision of respecting all people. This is our commitment to show love and respect to our customers and to work to make a positive impact in the world.
How is Glanzmann Subaru dedicated locally to the Love Promise?
Our Love Promise can be seen in various partnerships with local charities and non-profits. We're grateful for the opportunity, not only to be a part of our community, but to serve it as well.
Temple University l St. Joseph's University l Lasalle University l Chestnut Hill College l St. Joseph's Preparatory l Lasalle High School l Mount St. Joseph's Academy
Philabundance l Chestnut Hill Festival l St. Philip Neri School l Ambler Main Street l Abington Ghosts l Jenkintown Drakes l Keystone Rally Association l Temple Beth-Am l Broadway Sings l Jenkintown Borough
For Pete's Sake Cancer Respite Foundation l Susan G. Komen for the Cure l Linda Creed Breast Cancer Foundation
Love Promise Stories from Glanzmann Subaru
Subaru and Glanzmann Subaru believe in making a positive impact on the communities in which we live and work. We uphold that belief through our Love Promise Community Commitment. Every month, we select inspiring stories from customers and partners from around our area who strive to support our collective commitment and feature them here
Loving the Earth at Glanzmann - Karyn L
I felt compelled to write you and submit this story after seeing the many videos you posted on social media throughout the month of April. I learned all about your Subaru Loves the Earth month and was impressed by all of the creative ways in which you and your employees work to preserve our environment. It really shows that your company's care extends far beyond making money and that you are a true community and people driven business. I was particularly impressed with your reuse of oil to heat your building and how you turn snack wrappers into park benches. This is very creative and inspiring to try and do more in my everyday conservation efforts. I also thought the tire recycling was pretty cool too! While watching all of your videos, it shined a light back on the people part of business, and if more businesses are led by caring individuals like yourself, our future will be bright! Thank you and your entire organization for being a business that truly cares... not just in words, but in your everyday actions. And your actions truly show you "love the earth"
---
"Fill the Forester" Food Drive - Katie L
Inspired by Subaru and their partnership with Feeding America and donation of more than 150 million meals, the team members at Glanzmann Subaru wanted to do something themselves to further the cause and support a local food bank. Several employees got together and came up with the idea of a "Fill the Forester" food drive. Employees and customers were invited to drop off shelf stable food to the showroom or service drive, with all proper safety precautions, in order to "Fill the Forester." The contents would then be delivered to a local food bank, Philabundance. Team members and customers were generous, but what really surprised the team at Glanzmann was the amount of "off the street" donations received from the general public who had simply seen facebook videos posted about the food drive. By March 1st, the team at Glanzmann had accomplished their goal of the filling the Forester, which generated 547 pounds of food. This is going to help feed a lot of people during a time when the need is so great. Excellent work by the team members at Glanzmann. This truly is a testament to the good that small acts of kindness can do to help better our community.
---
Glanzmann steps-up for Prevention Point - Prevention P
Earlier this month, Glanzmann Subaru donated blankets to Covenant House through Subaru's Love to Help campaign. Weeks after Glanzmann Subaru partnered with Covenant House, the blanket donation was learned about through connections that exist between Covenant House and Prevention Point, both organizations work closely together and are committed to helping the homeless in Philadelphia. Although Glanzmann Subaru already donated their blankets to Covenant House, Prevention Point representatives contacted Jeff Glanzmann and asked if he had any leftover blankets to donate, or if Subaru had any leftovers. Shortly after the Prevention Point request was made, Jeff Glanzmann responded that there were no leftover blankets, but that Glanzmann Subaru would be purchasing an additional 100 blankets to donate specifically to Prevention Point. A few days later Prevention Point was notified that the blankets arrived, which was just in-time for a Philadelphia CODE BLUE alert where temperatures dropped to critical levels. Thank you Glanzmann Subaru for stepping up to help. The blankets really made a difference and it is great to see this generosity from a local business. Thank you for caring about the community!
---
Holiday Happiness - Sergio S
Restaurants have been hit really hard this year due to COVID-19, and Pasta Fazool in Hatboro, PA is no exception. The restaurant, a small quaint Italian style eatery with no more than 10 or so tables, has been struggling to overcome the COVID hardships. The staff in the restaurant have remained positive and optimistic that they will get through it together, but in the owner's words, "it has been really tough for us and our families and every day is a struggle." That struggle was eased this month when Jeff Glanzmann, unaware of how much this little neighborhood staple was struggling, walked in one day and ordered 90 gift certificates to give to all of his employees at Glanzmann Subaru. Since Glanzmann Subaru could not have its annual holiday party due to COVID, he wanted to still provide his employees and their families with a celebratory holiday meal. He chose Pasta Fazool because it was across the street from the dealership's new future location and wanted to support another local business. Sergio, the owner, was brought to tears upon hearing the request, and later said... "Glanzmann Subaru came at the best time because right now it is the worst time. We really need the support and this changes everything for us." It is great to see the positive impact in our community that all 90 employees at Glanzmann Subaru are making happen. In particular, the good they are doing for this little Italian restaurant that remains a neighborhood staple thanks, in part, to everyone at Glanzmann Subaru.
---
Coats for Kids - Megan T
Glanzmann Subaru put some smiles on a lot of kids faces this year by donating more than 300 coats to kids in need of a warm coat for the winter. Believe it or not, every child is not fortunate enough to have the basics that many of us take for granted, so providing even the smallest essentials can help improve a child's wellbeing. The coats that Glanzmann Subaru donated will not just provide warmth, but they will also help bolster each child's self-esteem. Owning a brand new winter coat can be such a joy to a child and we cannot thank everyone at Glanzmann Subaru enough for all the great work they do to better our community. Great job Glanzmann Subaru!
---
Glanzmann Subaru Loves to Help! - Maria O
Glanzmann Subaru delivered blankets to Covenant House PA to help the homeless youth sleep warmer this winter season. Subaru Loves to Help. This November, in recognition of National Homeless Youth Awareness Month, Subaru and their retailers are donating 50,000 blankets to nearly 600 homeless shelters across the country. Glanzmann Subaru is proud to participate in this wonderful cause.
---
Glanzmann takes part in a Subaru Love Pets Event - Maria O
October is Subaru Loves Pets month! Glanzmann Subaru proudly supports the Bucks County SPCA. Buddy is a one-year-old shepherd mix who lost his home in September through no fault of his own. Unfortunately, his owner lost her job, and she was unable to continue providing for him. She tried re-homing Buddy with family members, but he was too active for them. She brought Buddy to the Bucks County SPCA for help finding a good home able to give him the care and attention he needs. At the shelter, the veterinarian examined Buddy and began a course of treatment for intestinal parasites. During the couple of weeks Buddy was receiving medical treatment, the staff and volunteers made sure he was active and emotionally engaged each day. To prepare Buddy for adoption, he was neutered, microchipped, and all necessary vaccinations were updated. Everyone at the shelter thoroughly enjoyed working with this smart young dog. They were eager to help him find a new family ready to continue his training and care. He found a family in only a few days! Thanks to the support of Glanzmann Subaru and the Bucks County SPCA, they help rescues and re-home thousands of pets like Buddy every year! !
---
Their kindness beamed through their masks - Nate W
My husband's cancer research lab at UPenn was closed because of the pandemic. Simultaneously, he was added to the physician's on-call list. The thought of him on the frontlines made me proud that he would be there for patients with coronavirus, but I worried about his safety. I knew I had to buy him a reliable car because he wouldn't be able to take the bus to and from the hospital like he usually does. Thankfully, we had the good fortune of being held in care by Dana, Jessica, and Jake at Glansmann Subaru. Within no time, Dana presented the perfect CrossTrek. Like a pro, he navigated the ambiguities of the state's temporary ban on licensing. He provided us with a new loaner car until the ban was lifted, helping meet our immediate needs. Dana personalized the entire online buying experience, including creating a custom video for us. After the ban lifted a month later, I returned the loaner to find our dream car with custom accessories. I was impressed by their expertise about the entire car-buying process, including Jake's skillful orientation to the CrossTrek. Together with Dana and Jessica, it was clear that the team had a comprehensive plan for practicing social distancing during the contracting process. Their kindness and warmth beamed through their masks. I was moved by their ability to maintain the highest forms of professionalism amid considerable uncertainty. I could tell their work was more than a job but a vocation. For instance, many of Glanzmann Subaru employees were temporarily furloughed during this crisis. Each employee made sacrifices to help the Philadelphia region flatten the curve. This was another powerful way of the Glanzmann team collectively showing tremendous courage to protect their neighbors, which in turn helped the hospitals not become overwhelmed. As a result, it's been six weeks now since my husband was added to the first-responder list, and he has not yet been called in. Whether that's soon, or when he eventually returns to conducting cancer research, he will be protected by our safe and reliable Chariot, the name of our new CrossTrek. Thank you, Dana, Jessica, and Jake for protecting our family and our region in these uncertain times. Thank you for treating us with care and dignity. We wish you and your loved ones abundant health and happiness. In gratitude, Nate
---
Curing IBD Together - Carly P
Each year, Glanzmann Subaru generously supports the Crohn's & Colitis Foundation, Philadelphia/Delaware Valley Chapter's, annual Evening of Hope gala. Now in its 45th year, the Evening of Hope is a night of community, inspiration and celebration. As a Bronze Sponsor, Glanzmann Subaru's generous contribution directly supports the Foundation's mission which is to cure Crohn's disease and ulcerative colitis, and to improve the quality of life for children and adults affected by these diseases. Over 80% of all money raised at the annual gala directly supports the mission. Glanzmann Subaru's sponsorship includes tickets to the event. Mr. & Mrs. Glanzmann and their family have enjoyed attending the event for many years, including bidding on the incredible auction items on display.
---
Glanzmann Subaru supports the Jenkintown Sunset 5K - Stuart T
The Jenkintown Sunset 5K Run is held the first Tuesday evening in June and for the past 28 years Glanzmann Subaru has generously been a proud sponsor of this great community event. The run, which is one of the largest evening runs in the Philadelphia suburbs, is the major fundraiser for the Kiwanis Club of Jenkintown and with the money raised the Kiwanis Foundation of Jenkintown is able to then give back to the community by supporting: The Jenkintown Festival of the Arts, Jenkintown Day Nursery, Jenkintown Police & K9 Units, Old York Road Historical Society, and Pulley & Buttonhole Theater, etc.It has been a wonderful partnership working with Glanzmann Subaru as they have always been their for us and the community!
---
Giving back through Dance! - Lisa C
Metropolitan Ballet Company is a nationally recognized performing arts training company, but we're most proud of being part of the fabric of our beautiful community right here in Jenkintown! Our young dancers are forging connections and friendships that embrace multi-cultural backgrounds, numerous languages, and varied dance styles. We are dedicated to offering young boys and girls the opportunity to develop strength, agility and classical dance training, along with helping them learn important life lessons such as time management and teamwork. Our Pre-Professional company (students age 12 - 18) then give back to the community with fully-produced, high-energy performances like the Family Concert, every November and Variations/Collaborations in March. We are committed to keeping ticket prices affordable for our growing audiences, something that is only possible through the generosity of sponsors who are also committed to enriching our local quality of life. Glanzmann Subaru has been a generous and enthusiastic supporter of Metropolitan for many years. With their help, we are also able to offer a tuition-free Boys' Scholarship Program to over 50 boys each year and bring our Kinetic Literacy program to K-2 grade students in underserved schools, boosting math and reading learning. We aim to give back to our community through the performing arts and count Glanzmann Subaru as an important partner in our endeavors. Bravo! -- Lisa Collins Vidnovic, Founder and Artistic Director For further information on classes for students ages 3 - 18, performances and community events visit: www.metropolitanballetcompany.org Or call us at 215-663-1665.
---
Subaru Shares the Love with FPS! - Meg S
For Pete's Sake Cancer Respite Foundation (FPS), enables adult cancer patients and their loved ones to strengthen, deepen, and unify their relationships by creating unforgettable and lasting respite experiences. This past weekend, the team at Glazmann Subaru helped kick off FPS Travelers, Kimberly and Barmi's, break from cancer by chauffeuring them from their home in Philadelphia PA to the airport! This week, they're enjoying their respite experience in Davenport, FL! Kimberly, age 36, was diagnosed with cancer in April of 2016. Her Oncology team at Fox Chase Cancer Center knew that life was full of stressors for Kimberly, being a young mother of a four-year-old balancing cancer treatments. They wanted her to have the chance to get away and refresh with her partner, Barmi, and to make new memories filled with joy! Kimberly told us, "The journey has been long and exhausting for myself and my family. This past year I learned that cancer has spread to my liver. I spent my entire summer in and out of the hospital. I could use a chance to make some beautiful memories!" Thanks to Subaru, Kimberly and Barmi got to ride to the airport in style and not fret about transportation. We are grateful that they were able to see them off! Just look at the smiles in the photos, and you will see that the Glazmann team was able to provide a positive start to their much-needed break from cancer. Thank you for helping families facing cancer, and sharing the love Glazmann!
---
Support for our School and Community - Jacki S
Glanzmann Subaru was very generous to place a full page ad to support the Abington High School marching band's home show in our program book this past October. We really appreciate the support for our school and our Abington Community. Thank you!
---
Subaru loves the Bucks County SPCA - Morgan V
Glanzmann Subaru in Jenkintown donated 20 adoption kits to our shelter complete with toys, cleaning wipes, bags, and many more. The toys were all Subaru themed and so adorable, we received many compliments on them already! It's nice to have something to inspire fun on their first night in their new home. Glanzmann also did a donation drive for our shelter where we received much needed cat litter, food, and other goodies.On top of that, they gave us a box full of shelter supplies which included tough toys and tennis balls for some of our more active dogs. We are so grateful and want to thank everyone at their location. They were extremely nice and all amazing animal lovers with big hearts.
---
Our Lady of Mercy School Thanks Glanzmann Subaru! - Jean B
Our Lady of Mercy is a Catholic School in Maple Glen, Pennsylvania. My three daughters are in 4th, 5th and 8th grades at OLM, and I volunteered to help solicit advertisements for our big fundraising auction. I contacted Glanzmann Subaru to request support for the auction, and right away we received their generous response. Glanzmann Subaru placed a full page ad in our program! These funds will be used to enhance the safety and security of the school property and be invested in technological and academic enhancements. On behalf of the 300+ students at OLM and their families, I want to thank Glanzmann Subaru!
---
Glanzmann Supports Oreland-Wyndmoor Little League - Kevin C
Since 1950 Oreland-Wyndmoor Little League has been providing the children of the Oreland and Wyndmoor communities the opportunity to play the great sport of baseball. With nearly 400 children participating in all levels from T-ball to Majors, OWLL hosts over 800 games and countless practices each year. The League also offers girls and boys with intellectual and/or physical challenges the opportunity to play baseball through the Challenger Division. Oreland-Wyndmoor Little League is a 100% volunteer, self-supported organization. Nearly all of the funding needed for uniforms, field maintenance, equipment and utilities comes solely from sponsorships. This past season OWLL was lucky enough to add a new sponsor - Glanzmann Subaru. If it were not for organizations like Glanzmann Subaru the league simply would not exist. Glanzmann Subaru's generosity has already had a positive impact on the athletic experience of countless children involved in OWLL. The league hopes to continue its partnership with Glanzmann Subaru for many years to come. Thank you Glanzmann Subaru!
---
Beth Sholom Congregation Centennial Celebration - Elliot M
Beth Sholom Congregation Centennial Anniversary- On May 18, 2019, more than 200 Beth Sholom Congregation members and friends rejoiced together for a special evening honoring the Past Presidents of Beth Sholom Congregation. Thanks to the generosity of Glanzmann Subaru and others, Beth Sholom Congregation will continue to serve a vital role in the greater Elkins Park, PA community. A huge thank you to Glanzmann Subaru for your on-going commitment to our community. Beth Sholom is a Vibrant, Egalitarian, Diverse Conservative Congregation. We combine a love of Jewish tradition with innovative approaches to experiencing the richness of Jewish life. We strive to create a sacred community that embodies the core values of:Torah - Inspired Jewish learning that is spiritually uplifting and intellectually honest.Avodah - Prayer and connection to God through warm, participatory services.G'milut Hasadim - Acts of loving kindness that help those locally, in the Land of Israel, and around the world.
---
In Support of Briar Bush and the Environment - Karen F
Briar Bush Nature Center has been in the Abington community for over 50 years. The center focuses on teaching children about nature, offering hundreds of programs and events, and maintaining our sanctuary as a habitat for native plants and animals. Using exploration and inquiry Briar Bush strives to create stewards for the environment with programming for all ages including Head Start, SAGE (Seasoned Adults Growing Environmentally), surrounding school districts, and experiences for groups with special needs and their families.For the past 6 years, Glanzmann Subaru has sponsored Briar Bush Nature Center through incredibly generous annual donations. This continued support is essential to keeping Briar Bush's programming available to the community; we could not do it without this relationship. Thank you, Glanzmann Subaru!
---
Glanzmann Subaru Supports Domestic Abuse Victims - Maria M
The Women's Center of Montgomery County, a domestic violence program serving more than 5,000 victims each year, is proud of our partnership with our friends at Glanzmann Subaru! For more than ten years, Glanzmann has been a major sponsor of our annual fundraiser, helping us to raise critically needed funds to support victims in crisis as they relocate to safety. Glanzmann Subaru's support is especially meaningful to the Center because it demonstrates an enduring commitment to our common goals: improving our community, promoting safety and eliminating domestic abuse. Their contribution enables us to provide and enhance services such as counseling, legal advocacy and supportive services such as emergency safe housing, transportation and food for these victims and their children, making it possible for them to transition from crisis to safety and stability. Additionally, Glanzmann Subaru's sponsorship helps us to reach out to the community so that we can identify victims in need of our assistance and educate potential victims, and train social service providers, law enforcement officials, and medical providers on the appropriate protocols for empowering victims of domestic violence to take a step toward living safely. Their financial assistance is the first step toward fulfilling our goal of ending domestic violence in our community, and we are truly appreciative Beyond our thankfulness for their monetary support, it is also most heartwarming to know that there are generous and kind companies who share our commitment to ending family violence. We know that we could not do this work without their assistance and encouragement and on behalf of a most grateful organization, we thank Glanzmann Subaru for their generosity and the community spirit in which their visionary investment in fulfilling our mission is made each year!
---
The Peace Center, Inc., says THANK YOU! - Menina B
The Peace Center, Inc., (Bucks County) expresses our gratitude to Glanzmann Subaru this past year. Your support has helped us to work within schools in the community to teach inclusion and self-awareness which help to decrease incidences of bullying and create more peaceful classrooms.The Peace Center educates and empowers schools and families and enriches communities with proven conflict resolution and social justice programs. Last year The Peace Center directly impacted nearly 5,000 people, and this year is proving to be even busier! The annual Auction Gala is The Peace Center's largest fundraiser and, by purchasing an ad in the Auction Gala journal, Glanzmann Subaru has helped make a difference in the work to stop the cycle of bullying, conflict, and violence. Thank you Glanzmann Subaru!
---
Congregation Kol Ami - 25th Anniversary - William H
On September 14th, more than 120 Congregation Kol Ami members, community and friends rejoiced together for a special evening honoring Elijah and Gennifer Dornstreich at the National Museum of American Jewish History. The Gala was billed as "Leading Through Community." Thanks to the generosity of Glanzmann Subaru and others, Kol Ami will continue to serve a vital role in the greater Elkins Park, PA community. Celebrating its 25th birthday, Kol Ami is a Reform congregation committed to creating an intimate and involved Jewish community where one's presence is valued and one's absence is felt. At Kol Ami's Early Learning Center, children ages 15 months to five are nurtured in a playful, relaxed atmosphere that fosters imagination, curiosity, creativity and independence through experience. A huge thank you to Glanzmann Subaru for your on-going commitment to our community.
---
Glanzmann Subaru & LLS bring love to Einstein! - Gracie G
On Friday, June 21st, the LLS Eastern PA Chapter and Glanzmann Subaru has the pleasure of delivering 80 blankets and arts & craft kits to Einstein Cancer Center, Elkins Park, Philadelphia, PA as part of the Subaru Loves To Care program. These comforting gifts were accompanied by personalized messages of hope written by the customers and staff of Glanzmann Subaru.This incredible act of generosity was warmly received by the Einstein Hospital staff who were thrilled to distribute these comforting gifts to their patients. LLS is proud to partner with Subaru to spread hope, love and warmth to those fighting cancer, across the country and right here in the Elkins Park, Philadelphia, PA community.
---
Glanzmann supports the Leukemia & Lymphoma Society - Maria O
On June 21st, 2019, Glanzmann Subaru delivered blankets, arts & craft kits (for the kids), and messages of hope to cancer patients who can always use a lift to Einstein Medical Center. We value our great partnership with the Leukemia & Lymphoma Society. The Leukemia & Lymphoma Society (LLS) is the world's largest voluntary health agency dedicated to blood cancer. The LLS mission: Cure leukemia, lymphoma, Hodgkin's disease and myeloma, and improve the quality of life of patients and their families. LLS funds lifesaving blood cancer research around the world and provides free information and support services.
---
Working together to get kids outside and on bikes - Brian W
Everyone knows Subaru is the unofficial car of mountain bikers everywhere. But we're proud to say it's the "Official Car" of the SoMont Youth Mountain Bike Team, thanks to the generous second-year sponsorship of Glanzmann Subaru that contributes significantly to helping us get #morekidsonbikes! SoMont Youth Mountain Bike Team, based near Philadelphia, teaches girls and boys in grades 6-12 how to be active, good community members, and self-reliant through the life-long sport of mountain biking. Glanzmann is an ideal partner because the Subaru brand's focus on environment, healthy and active lifestyles, learning, families, and adventure aligns perfectly with our outdoor-oriented youth-development mission. Plus, many SoMont coaches and families are loyal Subaru owners (see photo). We "love" that Glanzmann Subaru believes enough in our program to invest in helping local youth improve their fitness and develop a sense of adventure and appreciation for the outdoors. While many kids today choose to stay inside and focus on less active pastimes, SoMont's biking program has grown exponentially-- from 7 kids our first year (2016) to 50+ in 2019! We believe this is due to our focus on five principles:Adventure, Exploration, Excitement, Friendship, and Fitness. And, most significantly, the fact that EVERY kid on the team participates, regardless of skill. Our motto "No one sits the bench" says it all. Learn more about the SoMont Youth Mountain Bike Team at http://www.somontcycling.org or at https://www.facebook.com/SoMontMTB/
---
For Pete's Sake Cancer Respite Foundation - Amber M
Glanzmann Subaru has impacted almost 50 families - changing the lives of over 200 patients, caregivers and children - through their Share the Love partnership with For Pete's Sake Cancer Respite Foundation. The Glanzmann Team engages its customers to be generous through the annual Share the Love Event, and we are overwhelmed by the generosity shown to our patients and their families. This year, we received a $56,000 donation and in total, over 6 years, we have received over $220,000 for our mission! This support is vital to our mission and ensures we can continue to provide cost-free, care-free respite vacations to adult cancer patients and their loved ones each year. We are also thankful for the TLC shown to our families as Glanzmann employees donate their time to transport FPS families to and from the Philadelphia airport as part of their respite vacations. This year, the Nansteel-Burnt Family was served with this wonderful transportation donation! Thanks, Glanzmann Subaru, for being great members of our community!
---
Thank you Wilton - C D
On a recent Friday afternoon, we picked up our new 2019 Forester. In the excitement, my husband forgot to retrieve his briefcase from the leased vehicle we were turning back into Subaru. Needless to say, the briefcase contained many important materials. By the time he realized what he had done, it was after 5 pm and the dealership was closed. After a sleepless night, he left the house early so he could arrive at the service department for the 8 am opening. He arrived a bit early and was greeted by Wilton who saw the distressed look on my husband's face. Wilton was absolutely wonderful and went above and beyond in trying to help find the missing briefcase. We are so grateful and wanted to let you know how much we appreciated Wilton's efforts. Wilton is a great representative of Glanzmann Subaru. And yes, the briefcase was recovered.
---
Subaru Love Promise "Alive and Strong" - Frank S
Every year, our local community organizes a "day of service" designed to teach our youth the importance of giving back, supporting the local community, helping others in need, and doing the right thing. We demonstrate this by inviting hundreds of children from the local schools to participate in serving hot meals to those that otherwise might not regularly get one. We also prepare to take home food bags and assemble additional food bags to later be delivered to the homeless. An undertaking like this, as you might imagine, requires a lot of support and donation from the community. So I reached out to Jeff Glanzmann at Glanzmann Subaru, requesting a small monetary donation. He immediately said that he would be happy to support, but I was surprised when he asked, "but what is the real need?" He clarified by asking, "what support can I provide that will fill your need the most?" I informed him that our biggest need is in canned good donations because, although serving one hot meal is nice, sending families home with food helps ease their burden for a longer period of time. He simply told me to come by on Friday and he would have some items for me. "Some" was an understatement. When I arrived on Friday and saw the amount he was to donate, I wasn't sure it would fit in my car. Jeff and his team filled my entire Forester, floor to ceiling, with bags of canned goods, peanut butter, rice, spam, and the list goes on. They also offered to participate in serving the food and assembling the take-home bags. The Glanzmann Team did such a wonderful thing for these families and demonstrated to the children serving that day, what it means to be a responsible business in our community. Go Glanzmann!
---
Glanzmann Subaru Loves to Care Einstein Medical! - Jenn P
Glanzmann Subaru delivered warmth and hope to patients and their families in treatment at Einstein Medical Center, Elkins Park on Tuesday, July 10th. The medical staff and nurses shared their messages of thanks for this year as well as the last year for the hope LLS & Subaru are bringing to their patients. With smiles all around, the team looks forward to this delivery every year.
---
Philadelphia Bark and Bowl - Chris P
The Philadelphia Chapter of The National Canine Cancer Foundation has had the pleasure of working alongside Glanzmann Subaru for the past 4 years at our annual Bark and Bowl event! Did you know 1 in 3 Dogs will be diagnosed with cancer? Did you know that canine treatments and cures benefit humans? Together, We Are The Cure! Launched in South Florida, the Bark and Bowl began in honor of 2 dogs lost to cancer in 2009. The first event of its kind drawing awareness to canine cancer, it quickly spread to other markets including Jacksonville, Pittsburgh, and yes...Philadelphia! Bark and Bowl teams register for a night of striking out canine cancer, and if they happen to drive a Subaru they are entitled to VIP Parking. That is, for Very Important Paws only, as pups are allowed in the bowling alley for this one-of-a-kind event. Get your shoes (if they haven't been chewed up), bowling ball, and head to your lane for Rock-N-Bowl lights and Glow-balls. Team photos on the "Pink Carpet," raffles on the hour, cock"tails", wagging tails, and Team Contests make this a night you and your pup won't forget. Gather up your "Barkley's," it's time to Bark and Bowl! The Philadelphia Bark and Bowl is the 2nd longest running event for the NCCF, and annually one of the most successful. Since our partnership with Glanzmann Subaru, we've raised close to $175,000 towards our mission of canine cancer awareness, education, and research. Their passion for the cause is evident, and their team is one of most energetic and involved every year. As a result, the NCCF has funded a record number of grants over this period while launching new events and programs! Additionally, because of annual sponsorships, we can guarantee that 100% of Team Lane donations go directly to the NCCF mission, and not event costs! Having personally worked with the team at Glanzman, I can attest they are animal lovers! They are genuine, always looking for new ways to assist and help the event grow. Many companies profess to be animal cause supporters, but sadly it is in name only. Being animal activists is definitely ingrained in the Subaru team. As an event director, having partners like Glanzmann is amazing; they are here to support the event, and not just be a name on a poster or website. As a young foundation, the partnership lends credibility to our cause and drives awareness amongst "Dog Loving" Subaru owners. The Bark and Bowl partnership reinforces Subaru's commitment to animal welfare, and grants the NCCF the opportunity to further our mission. Thank you Glanzmann Subaru for the opportunity to partner on the Bark and Bowl, together WE are the cure!
---
Glanzmann Supports Don't Stall, Just Call 5K! - Mary C
Glanzmann Subaru generously supported the 3rd Annual Don't Stall, Just Call 5K/ 1 Mile Walk held on April 21st @ Temple University, Ambler Campus! This DSJC event is the main fundraiser for The CTC Wellness Scholarship, an annual financial award for a Temple University Landscape Architecture student in memory of Christian T. Ciammetti. Nearly 400 runners & walkers participated, along with many volunteers, face painters & cheerleaders created a memorable, successful and fun day for all! The CTC Wellness Foundation dba Don't Stall, Just Call was created to educate all young people & their families about the dangers of binge drinking and to learn the symptoms of alcohol poisoning in order to prevent senseless deaths in the future. The DSJC team has been invited to speak to >15,000 people in the last 2 1/2 years. With constant support from concerned community partners like Glanzmann Subaru, we can continue educating throughout the Delaware Valley and beyond. We are thrilled to know young people are listening and learning, making better choices concerning alcohol and most importantly, making life saving calls! Glanzmann Subaru has helped our DSJC team reach our financial goal this year and we are grateful for their support! Thank You!
---
Giving back in a big way - Alison P
I am a proud Subaru owner, as are most of my family members, and continue to have excellent experiences with Glanzmann. One reason we love Glanzmann is how dedicated they are to their customers and their community. They recently supported a cause that is near and dear to my heart, the Leukemia & Lymphoma Society, as ad sponsors of our recent 5th annual Red & White Ball. Our event raised nearly $700,000 for blood cancer patients and their families in our region. Thank you, Glanzmann Subaru, for your ongoing support!
---
Glanzmann Gives Patients a Break from Cancer! - Amber M
On December 12, Glanzmann Subaru took an active part in For Pete's Sake Cancer Respite Foundation's (FPS) mission, providing an FPS patient and caregiver with a trip to and from the airport in a new Subaru! Early in the morning, the team at Glanzmann Subaru picked up Sharla Glenn, age 55 with breast cancer, and her caregiver at her home in Philadelphia. This was the first exciting day of an eight-day break from cancer, to take place at the FPS respite vacation home in Florida. Glanzmann Subaru also provided Sharla and her caregiver with a ride home from the Philadelphia airport on Tuesday, December 19th. For eighteen years, For Pete's Sake Cancer Respite Foundation (FPS) has been dedicated to improving the lives of families battling cancer by providing respite vacations to adult cancer patients (ages 24-55) and their loved ones in beautiful settings. Since its inception, FPS has partnered with over 325 oncology professionals to serve over 7,000 cancer patients, caregivers and children with emotional support and respite vacations to Florida, the Poconos, West Virginia, the Jersey Shore, the Carolinas, Maine and the Caribbean. Glanzmann Subaru has partnered with FPS for the Share the Love Event since 2013 and has raised over $114,000 to give families a break from cancer. FPS is grateful for the generosity of Glanzman leadership, employees and their customers!
---
Glanzmann Subaru supports the Parent-Infant Center - Karen S
The Parent-Infant Center is West Philadelphia is grateful to Glanzmann Subaru! For the past 3 years, Glanzmann Subaru has taken part in our annual fall fundraiser, ArtStart, by purchasing ad space in our event's program book. Proceeds from ArtStart are dedicated to PIC's tuition assistance program and will be used to support children from economically-disadvantaged backgrounds. Thank you Glanzmann Subaru for your support of the Parent-Infant Center!
---
Glanzmann supports PAWS with "New Pet Owner Kits" - Janet J
PAWS (Philadelphia Animal Welfare Society) rescues abandoned dogs and cats throughout the Philadelphia area and works to find them loving homes. The onsite clinic also helps struggling pet owners care for and keep cherished pets by providing affordable veterinary care. Glanzmann Subaru partnered with PAWS by donating pet owner kits that will be given to those who adopt. The pet owner kits help those adopting by providing the initial needs of a newly adopted pet. Thanks Glanzmann Subaru for your support of PAWS!
---
Emissions - Andy T
My story is simple, I have owned 5 subarus and I am just turning 25. Since I was borned in 1993; year of the rooster. I am happy to say all 5 have been purchase this year. I can not be more happy with all 5. Some are sold some are here to stay, but what I love is that all have a special place in my heart. Thank You Subaru
---
Glanzmann Drives Hope Home with Meals on Wheels - Renae G
Montco SAAC is the Meals on Wheels provider across most of lower Montgomery County. Every day our volunteers deliver meals and help alleviate loneliness for over 350 homebound seniors. And every September we have our Outrunning Senior Hunger 5K Run and 3K Walk to help support the program. For the last four years Glanzmann Subaru has been a loyal supporter of this area's homebound seniors by sponsoring this important event. With 100% of all money raised going directly to Montco SAAC's Meals on Wheels program, Glanzmann Subaru has made a difference in the lives of countless individuals across the region, both those receiving the wellness check and meals, as well as those who care about the homebound seniors. As a Meals on Wheels America member, Montco SAAC greatly appreciates the partnership of Glanzmann Subaru in the fight against senior hunger and isolation.
---
Glanzmann Subaru & Einstein Medical Loves To Care - Monique R
Glanzmann Subaru of Jenkintown, PA along with The Leukemia & Lymphoma Society (LLS) of Eastern PA as part of the national campaign Subaru "Loves To Care", delivered blankets and arts and crafts kits to Einstein Medical Center Elkins Park, PA on July 11th, 2017. These blankets are to be given to cancer patients who are undergoing treatment. Einstein was very grateful to have received the blankets and arts & crafts kits to give to their patients. The blankets will help to bring warmth and hope. Thank you to everyone who helped bring light into these patient's day.
---
Rescued Kitten - Katherine L
The Service Team at Glanzmann Subaru worked wonders today. A man arrived in their service department complaining of some strange noises he was hearing for a few days coming from his engine area. The staff kindly responded that they would do an inspection, identify the issue, and rectify it. After raising the vehicle on one of their lifts, the technician began inspecting the vehicle, specifically around the engine. He was hearing the strange noises too and quickly determined that this was not an engine noise, but rather a small kitten who had managed to climb under the car and up into the tight spaces within the interior of the bumper. Lodged between all the components, this kitten needed help. Luis, the technician, came to the rescue! I can only describe what he did as a surgical operation because he removed that kitten from the bumper with such precision, patience, and care as to not inflict any further harm. After being removed, the service team immediately cleaned the kitten, sent a staff member for the appropriate food and some pedialite, and contacted a vet to schedule a check-up so they could ensure the kitten was in good health. Going even further, Emily, the service representative, volunteered to adopt the kitten. She appropriately named him "SUBIE" and will be providing a good and loving home. Your love promise talks about doing the right thing. Well, the staff at Glanzmann Subaru did just that. I am proud to be a Subaru owner today and even more proud of my dealer.
---
Going above and beyond, and giving back - Alison P
I am very honored to be a candidate to be the Leukemia & Lymphoma Society (LLS) Woman of the Year. The Man and Woman of the Year is a ten-week fundraising campaign and whoever raises the most money during that time receives the title; our campaign culminates on June 17th with a Grand Finale Gala at which time they announce the winner. I have been involved with the LLS for about 5 years as a volunteer and am really passionate about this cause. My Nana died of leukemia when I was a kid and my goal is to raise at least $50,000, the amount needed so that I am able to name a research portfolio in her honor (hence my campaign hashtag, #50KforNana). One way to raise funds for the LLS is through ad sales. I am trying to rally the support of everyone in the local community and am so grateful to Glanzmann for being involved and taking out a full-page ad in support of my campaign! Nick and Jeff were immediately responsive to my outreach, going above and beyond to support this very important cause. I love being a Subaru owner for many reasons, and the way you give back is just one of them. On behalf of the patients and families impacted by blood cancer, thank you for your support! You can read more information about my campaign here: http://www.mwoy.org/pages/epa/philly17/apetok
---
Books donated by Glanzmann Subaru - Saint Philip N
Glanzmann Subaru donated 200 Science books to St. Philip Neri School. These books were put to good use as they related directly to what was going on in our classroom. Each spring our 5th grade science class learns about hatching chicks, a "hands on" learning experience. The class follows the month long process of fertilizing the eggs, incubation, and hatching. Once the conditions are just right the students will monitor the eggs to maintain a correct environment. After approximately 21 days the chicks will begin to hatch and that takes up to 24 hours. The ultimate payoff for the students is seeing new life begin and knowing that through education and learning they created a life. The books donated, "A Kid's Guide to Keeping Chickens" could not have been better. The entire experience was fantastic. This was a learning experience that the kids will remember for the rest of their lives. A big thank you to Glanzmann Subaru from all of the students at St. Philip Neri!
---
Glanzmann Educates Community on Car Buying - Friends o
Glanzmann Subaru sets the example for local businesses helping the communities in which they reside. In our community of Glenside, Glanzmann Subaru was kind enough to accept our invitation to attend and speak at our financial decisions car buying community event. Community members were well educated by Glanzmannn Subaru on what to look for when deciding to buy a new car and valuable insight was provided on questions such as what to ask the dealer, what should be expected throughout the buying process, differences between buying and leasing, how to understand the window sticker how to get the most value when buying and servicing at the dealer, and more. Our community members also learned a lot about the myths and misconceptions the general public has about buying a car. Improving your local community starts with participation. Thank you Glanzmann Subaru!
---
Glanzmann Subaru Gives a Break from Cancer - Amber M
Glanzmann Subaru has raised over $118,000 to give families a break from cancer since partnering with FPS for the Subaru of America, Inc. "Share the Love Event" in 2013! We have continued to partner with Glanzmann Subaru every year since then, and their contribution has changed the lives of over 30 cancer patients and their loved ones! On #GivingTuesday 2016, Glanzmann Subaru drove the Foglio Family to the airport in style, giving them a lift from their home in South Philadelphia to the airport in a beautiful Subaru Outback. The Glanzmann Subaru salesperson also gave the family a ride home from the airport at the end of their trip. Frank Foglio has been fighting cancer since July 2015 and traveled to the FPS respite vacation home in Davenport, Florida with his caregiver, Michelle, and their two daughters. This gesture of kindness went above and beyond the Share the Love Event partnership, directly connecting Subaru with a family who needed love and support. The Foglio family appreciated the door-to-door service in a comfortable and safe car, and it truly started their vacation off on the right foot! Thank you to our friends at Glanzmann for sharing our mission with the community, and participating in our mission in such a unique way.
---
Parent Infant Care Center - Karen S
Thank you Glanzmann Subaru for your sponsorship of our ArtStart fundraiser. You helped us raise over $40,000 which will go to our tuition assistance program. This success allows us to help families who may need support in meeting the high cost of quality child care. Thank you!
---
2016 Bark & Bowl - Chris P
Thank you Glanzmann Subaru for sponsoring the 2016 Bark & Bowl. Your sponsorship of this event helped raise over $40,000 for Canine Cancer Research.
---
For Pete's Sake Cancer Respite Foundation - Amber M
Thank you Glanzmann Subaru for raising $35,583 during the 2016 Subaru Share the Love Event. Glanzmann Subaru has raised over $70,000 for FPS over the last 3 years during the Share the Love Events.
---
Canine Cancer Research - Susan B
Glanzmann is a very customer-focused dealership. Whether buying a car or servicing your vehicle, the experience is always pleasant and professional. To top that off, Glanzmann is a sponsor of Bark and Bowl which benefits the Philadelphia Chapter of the National Canine Cancer Foundation. Way to go, Glanzmann, and thank you.
---
Glanzmann Subaru Donates 200 Science Books - Elizabeth V
During the Subaru Loves Learning Event, Glanzmann Subaru donated 200 science books to St. Philip Neri School!
---
Subaru Loves Learning Book Drive August 1 - 31 - Danielle S
Join us in our Subaru Loves Learning initiative during the month of August! We are partnering with the American Association for the Advancement of Science (AAAS) in donating science books to St. Philip Neri School in the Archdiocese of Philadelphia. All of the books that will be donated have been recognized by AAAS as some of the best science books in their field. Contact us to learn more information.
---
Support of the Mercy Vocational HS Sapphire Event - Stephanie F
Thank you Glanzmann Subaru for your support of the Mercy Vocational High School 65th Sapphire Anniversary Celebration Event.
---
Sponsorship of the Montco SAAC Meals on Wheels - Renae G
Thank you Glanzmann Subaru for your sponsorship of the MONTCO SAAC Meals on Wheels Outrunning Senior Hunger 5K Run/Walk.
---
Glanzmann Sponsors SJP student - James
With the help of Glanzmann Subaru, a student requiring aid to attend St. Joseph's Prep, will now have an opportunity to receive an education often reserved for those with means. Thank you Glanzmann Subaru for sponsoring an SJP student in need.
---
Subaru Loves the Earth - E-Waste Event - Danielle S
We would like to thank our customers for participating in our E Waste Recycling event during the month of April. With your help, we were able to prevent 5,296 lbs of carbon emissions from polluting the atmosphere. This is equivalent to saving 203 trees, 901 gallons of gasoline, 7,677 plastic bottles, and 35,313 aluminum cans. Thank you for helping strengthen the Subaru Love Promise!
---
For Pete's Sake Cancer Respite Foundation - Amber M
Thank you Glanzmann Subaru for again partnering with us for the 2014 Subaru Share the Love Event. You helped raise $23,310 this year, bringing our lifetime total raised to $34,976. Thank you for your help and wonderful partnership!
---
April 1-30, 2015 E-Waste Recycling Event - Molly M
Throughout the month of April, we are hosting an E-Waste Recycling Event in our store to collect unwanted electronics. We've arranged to work with a company who will responsibly collect, re-purpose, and recycle your electronic waste. Help us protect our environment. Just show up with your E-Waste and we'll do the rest! The first 50 customers who contribute will receive a complimentary environmental badge of ownership. We will accept: LCD Monitors, Cell Phones, Laptops, Tablets, CRTs up to 40, Video Games/Consoles, Fax Machines, DVD/VCR Players, Printers, Computer Peripherals, Switches/Routers, Cords and Wires.
---
Broadway Sings - Howard R
Thank you Glanzmann Subaru for your support of our "Broadway Sings" event.
---
St. Philip Neri Monte Carlo Night - JP G
Thank you Glanzmann Subaru for your sponsorship of the St. Philip Neri "Monte Carlo Night". Your support will help make this a successful event.
---
Bark & Bowl - Chris P
Glanzmann Subaru to sponsor the 2015 Bark & Bowl event to benefit the National Canine Cancer Foundation.
---
Support for the Arts! - Lisa C
Thank you Glanzmann Subaru for supporting the 2014/2015 Metropolitan Ballet season.
---
Glanzmann Subaru Sponsors OYR event - Richard B
Thank you Glanzmann Subaru for your contribution and sponsorship of our OYR event at the Keswick theatre. You helped make it such a great event!
---
Glanzmann Subaru Sponsors Annual Briar Bush Nature Center Gala - Karen S
Thank you Glanzmann Subaru for sponsoring the 24th annual Briar Bush Nature Center Gala! And for the accompanying donation of $1,000!
---
Breathing Room Foundation at Glanzmann Subaru - Mary Ellen F
Thank you to our loyal and generous Breathing Room Foundation friends at Glanzmann Subaru in Jenkintown, for donating 150 winter coats for our Breathing Room Foundation families!!!
---
Glanzmann Subaru Supports the Metropolitan Ballet - Jeff G
Glanzmann Subaru just supported the Metropolitan Ballet with a $350 donation!!
---
Sponsered Meals on Wheels Outrunning Senior Hunger Walk/Run - JP G
Thank you Glanzmann Subaru for sponsoring the Meals on Wheels Outrunning Senior Hunger Walk/Run.
---
Share The Love For Pete's Sake - Amber G
Thank you Glanzmann Subaru for partnering with us for the Subaru Share the Love Event. With this partnership, you helped us raise $11,667. Thank you sooo much and we look forward to partnering again!!
---